By
Brandon Kochkodin
(Bloomberg) -- The FBI raid on the offices of President Donald Trump's lawyer, Michael Cohen, included one surprising aspect: taxi medallions. Agents were seeking documents on Cohen's ownership of "numerous" New York City taxi medallions, according to CNN.

That might not be as salacious as records showing payments to an adult film star or to a former Playboy Playmate, but taxi permits were once a
bonanza
for alternative asset investors.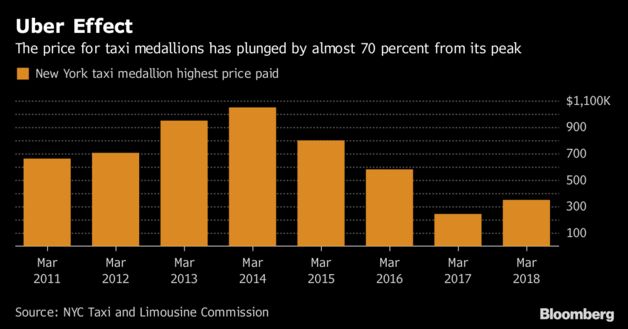 Prices for the permits jumped 60 percent from March 2011 to March of 2014 when they sold for $1 million each. The S&P 500's total return in that period was 53.2 percent.


But the entrance of Uber and Lyft has slashed their value. Permit prices dropped almost 80 percent by March 2017 before recovering a bit over the last year. It's not clear when Cohen made his investment.